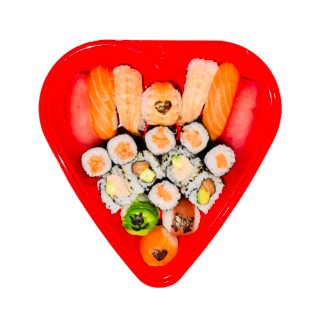 The sushi has been introduced to France many years ago and since, it wins over new customers every day! According to a study conducted by the Norwegian Seafood Council, approximately 22% of France's population eat sushi at least once a month. Whether at noon with your colleagues or in the evening with your family, eating sushi is a pleasant and fun moment (especially when a colleague doesnt' know how to use chopsticks!). Seriously though, sushi provide a lot of health benefits.
To be healthy, eat sushi!
The main sushi ingredient is rice. With few calories and high vitamin B1 and phosphorus contents, it helps turn carbohydrates into energy and improve physical performance. It makes you feel full, which is ideal to stop hunger while staying in shape. It is also a good compromise for people with gluten intolerance.
As rich in proteins as meat, fish provides vital nutrients such as potassium, selenium, phosphorus, iron and zinc. Fish with a high fat content such as salmon, tuna and mackerel contain up to 20% lipids but don't worry, these are good fats like unsaturated fat and omega-3 fatty acids. They contribute to heart health.
Also, the nori seaweed, mainly used for maki and california rolls, offers a lot of benefits! Just as fish, this seaweed is a good source of vitamin A, antioxidants and vitamin C, which prevents infections.
Do not wait anymore to enjoy these benefits!